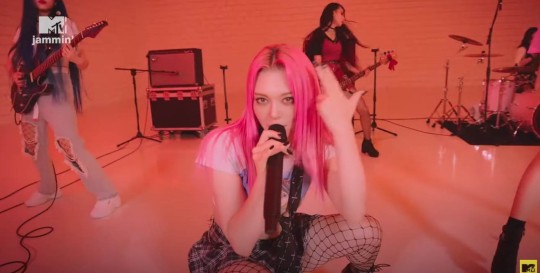 MTV ASIA, a music channel covering Asia, exclusively released a live music video of a collaboration between singer AleXa and girl band Rolling Quartz on August 25th.
In fact, the collaboration live video attracts attention as it features the global rookie AleXa and K-Girl Band Rolling Quartz. They met the public throughout Asia through the 'MTV Jammin' section, titled "AleXa x Rolling Quartz – Xtra (Exclusive Live Performance).'
In the released video, AleXa appeared in person. Then, she greeted the public explaining this collaboration and the song 'Xtra' arranged in a rock version. The video shows the powerful performance of AleXa and Rolling Quartz. It contains chemistry that seems that they are working for a long time already.
According to ZB Label, "For this collaboration, AleXa, whose interested in rock, asked Rolling Quartz to arrange the rock version of the new song 'Xtra.'
Rolling Quartz is a hard rock band composed of vocalist Jayoung, guitarists Airee and Hyunjung, bassist Arem, and drummer Yonggeun. So, after releasing their Japanese debut single, 'Blaze,' they are actively promoting with their songs.
Earlier, AleXa debuted in 2019. She climbed to the top 5 of the iTunes Kpop chart in 6 countries (Czech Republic, UAE, Switzerland, Norway, Italy, Belgium) with 'Bomb.'
'Revolution,' in which Dsign Music, a world-famous composer group, participated, was loved by music fans. It maximized AleXa's strong and dynamic energy. 
In the meantime, AleXa has been actively working with her comeback song 'XTRA.'
Recently, she formed a special duet collaboration with the popular YouTuber Daedo. Then, they released the summer season song 'Lonely Summer ( Summer Breeze)' and continues to promote it.
In addition, the singer AleXa will serve as an ambassador for the 9th Gwangju Design Biennale in 2021 hosted by Gwangju Metropolitan City and supervised by the Gwangju Institute of Design Promotion, from September 1st to October 31st.
Read More About: Nody Cika Drops MV Teaser For Her New Single, 'Birthday'
2021 kpop news
,
2021 kpop updates
,
alexa
,
ALEXA kpop news
,
alexa_kpop
,
alexa_reviver
,
AleXa_XTRA
,
group rolling quartz
,
KPOP
,
Kpop 2021
,
kpop AleXa
,
Kpop artist
,
Kpop artists
,
Kpop idols
,
Kpop latest news
,
kpop latest updates
,
Kpop news
,
Kpop recent news
,
Kpop trend
,
Kpop trending
,
KPop trending news
,
Kpop trending now
,
kpop trending update
,
KPOP2021
,
KPOPIDA
,
KPOPNEWS
,
latest kpop news
,
latest kpop updates
,
recent kpop news
,
rolling quartz
,
Trending
,
trending 2021
,
trending kpop
,
Trending Kpop news
,
trending kpop update
,
trending news
,
trending update kpop