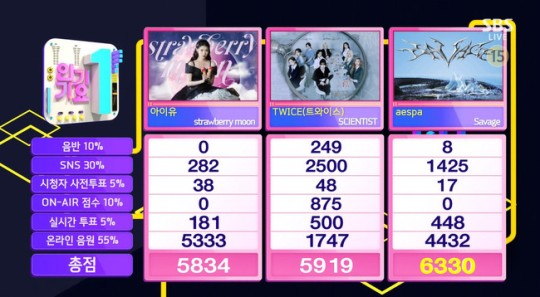 Kpop group AESPA took first place on SBS 'Inkigayo' for three weeks in a row.
AESPA won the 1st place trophy with the new song 'Savage' on SBS 'Inkigayo' broadcast on December 5. With this first place, they also received the triple award by ranking first for three weeks in a row.
AESPA did not appear on the live broadcast that day because their official activities were finished.
On this day's SBS 'Inkigayo,' Ghost9, DKB, Goon Park, B.I.G, T1419, Cignature, IVE, ICHILLIN, Yeeun Ahn, Everglow, ONEUS, Weki Meki, ONF, and EXO's Kai appeared.
Mainly, there were splendid comeback performances of popular singers arousoing the hot interest of Kpop fans.
Kai, a member of the Kpop group EXO, showed off his romantic charisma. He performed the new song 'Domino' and the title song 'Peaches' one after another.
Kai said, "It contains a total of 6 songs. So, please listen to it." 
Then, when the host asked who were the EXO members who supported this comeback the most, Kai added, "Everyone cheered for me, but Suho came to the filming site, and Sehun also served as the host."
ONF showed a deeper worldview with the new title song 'Goosebumps.'
It was a performance with a strong presence that overwhelms the audience. ONF explained, "This album is where you can better feel ONF's unique worldview. The title song 'Goosebumps' is a very attractive song with a strong bass sound and colorful composition."
In addition, Everglow showed off their bold and unstoppable charm with the new song 'Pirate.'
Then, Cignature revealed a secret story through the new song 'Boyfriend.'
Kpop group T1419 boasted a witty performance with the new song 'Red Light, Green Light.'
Furthermore, Kpop singer Goon Park boasted a lively charm with his new song 'Do Not U-turn.'
The debut performance of the rookie group also gathered attention. Starship Entertainment's rookie group IVE exudes six styles of six members through their new songs 'SHOW WHAT I HAVE' and 'ELEVEN.'
'ELEVEN' is a song that maximizes the mysterious charm of the six members. A rhythmic variation of the heart of a girl in love is dyed with fantastic colors.
Read More About: ONF Leaves A Sincere Message To Fans Ahead Of Military Enlistment
and Kevin
,
BEFORE SUNRISE Part.2
,
BEFORE SUNRISE Part.3
,
best Kpop girl group
,
best kpop news site
,
best kpopstar
,
BF
,
BF Kpop
,
bf members
,
BOYFRIEND
,
BOYFRIEND boy group
,
BOYFRIEND members
,
breaking news kpop
,
CHANYEOL
,
D.O
,
daily kpop news
,
Exit
,
EXO
,
EXO Albums
,
EXO members
,
Exo news
,
EXO songs
,
Fandom
,
FLEX
,
hana jung
,
Kai
,
KAIRI
,
kIO
,
Korean celeb news
,
Korean singer
,
Korean singer songwriter
,
KPOP
,
Kpop album
,
Kpop beauty routine
,
Kpop boy group
,
Kpop BOYFRIEND
,
kpop celebrity news
,
Kpop chart and news
,
Kpop colllaboration
,
KPOP comeback
,
Kpop current news
,
kpop daily news
,
kpop exo
,
Kpop fashion
,
Kpop girls group
,
Kpop group EXO
,
kpop group ONEUS
,
kpop group secret
,
Kpop idols
,
Kpop issues
,
Kpop latest news
,
Kpop music chart
,
Kpop news
,
Kpop news articles
,
Kpop news sites
,
kpop news update
,
KPOP ONEUS
,
Kpop recent news
,
Kpop skin care routine
,
Kpop skincare routine
,
Kpop T1419
,
KPop trending news
,
KPOPNEWS
,
Kyungsoo Do
,
ONEUS
,
ONEUS members
,
ONEUS news
,
Oneus Theatre
,
Secret
,
secret hana jung
,
secret members
,
Shut Up Crazy Hot
,
South Korean singer songwriter
,
T1419
,
t1419 MEMBERS
,
T1419 news
,
the best kpop girl group
,
the best kpop girl group of 2021
,
the best kpop group of 2021
,
the top kpop group
,
top kpop boy group
,
top kpop girl group