Kpop group AESPA member Karina took 3rd place in the Star Ranking Female Idol category.
AESPA Karina took third place with a total of 2025 votes in the 14th (January 5th week) voting for the Star Ranking female idol category held from 3:00 PM on January 27 to 3:00 PM on February 3.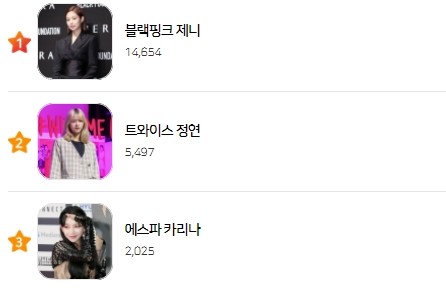 1st and 2nd places went to Kpop group BLACKPINK's Jennie (14,654 votes) and TWICE's Jeongyeon (5497 votes), respectively. Dahyun of TWICE (1494 votes) and Jisoo of BLACKPINK (942 votes) took fourth and fifth place, respectively.
Meanwhile, Star Ranking is a ranking vote in which fans directly vote for their favorite star to determine the ranking. According to the voting result ranking, there will be various privileges provided to the stars. The star selected as the number one for four weeks in a row is featured on an outdoor billboard advertisement.
Star rankings, in which fans vote for their favorite stars, can be voted on the Star News website. 
Read More About: After School Member Lizzy Leaves New Year's Greetings On Social Media
2022 kpop trending
,
2022 kpop updates
,
2022 latest news
,
AESPA
,
AESPA beating BTS
,
aespa giselle
,
aespa karina
,
aespa kpop
,
AESPA members
,
aespa news
,
aespa next level
,
aespa ningning
,
aespa winter
,
AESPA_US People's Magazine
,
best kpop news site
,
breaking news kpop
,
daily kpop news
,
Korean celeb news
,
KPOP
,
kpop 2022
,
KPOP 2022 NEWS
,
kpop aespa
,
kpop AESPA news
,
Kpop artist
,
Kpop artists
,
kpop celebrity news
,
Kpop chart and news
,
Kpop current news
,
kpop daily news
,
kpop group AESPA
,
Kpop idols
,
Kpop latest news
,
Kpop news
,
Kpop news articles
,
Kpop news sites
,
kpop news update
,
Kpop recent news
,
Kpop trending
,
KPop trending news
,
Kpop trending now
,
KPOP2021
,
KPOPIDA
,
KPOPNEWS
,
next level AESPA
,
Trending
,
trending kpop
,
Trending Kpop news
,
trending kpop update
,
trending news
,
trending update kpop