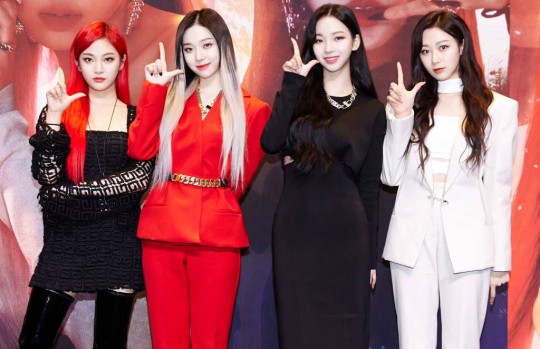 SM Entertainment's new girl group, AESPA, reached the top of K-pop with just two songs. Like the song's title, they have risen to as the true 'Next Level' of the music industry.
On June 21st, AESPA beat BTS taking first place on Melon's 24 Hits chart, the largest music site in Korea. As of June 27th, it is still on track.
'24 Hits chart,' reorganized in July of last year, is a method in which they count the accumulated unit usage for 24 hours. Among the girl group songs released and after the chart reorganization, AESPA is the first to top this chart.
'Next Level,' released on May 17th, is a remake of the OST of the movie 'Fast & Furious: Hobbs & Shaw.'
It is a hip-hop dance song with an energetic bass riff. The members' powerful voices are impressive.
SM producer Youngjin Yoo participated in writing, composing, and arranging the music, enhancing SM's unique musical style. The lyrics are about the journey to the wilderness (KWANGYA) to find the Black Mamba, who disrupted the connection between AESPA and 'Ae' and threw the world into chaos. They expressed the song perfectly with producer Youngjin Yoo's unique method of narration.
On its release day, 'Next Level' topped the real-time charts of major music sites such as Genie and Bugs. Also, they succeeded in entering the 24Hits Top 100 on Melon on the same day. Since then, the ranking has steadily risen. It entered the Top 10 of 24 Hits on May 21st. It is just 4 days after its release, and eventually climbed to the top.
This song was initially criticized for being unpopular and difficult. Particularly, there was a response that it has difficult lyrics using a worldview such as 'COSMO,' 'Ae,' and 'P.O.S,' which raised the barrier to enter music charts.
However, in the end, Youngjin Yoo's narration and melody revealed SMP's clear identity. It gathered the support of music fans who grew up listening to SM's music for a long time. Fans said that this song gives the feeling of various SM singers such as S.E.S, Shinhwa, BoA, TVXQ, and Girls' Generation. A fan said, "My heart beats when I listen to 'Next level."
On top of that, there are addictive elements such as sophisticated rhythms, melodies, and 'Diggle Choreography,' which makes you want to follow the dance. It created a synergy and succeeded in securing their popularity.
AESPA, who debuted in November last year with 'Black Mamba,' is a group that contains the history and future of SM. Musically, it contains the essence of SMP accumulated over 20 years. Their worldview is the starting point of SMCU (SM CULTURE UNIVERSE), which SM has been emphasizing.
Attention is focusing on what other unique music and worldviews AESPA, who poured all of SM's know-how, will attract fans in the future.
Read More About: NCT DREAM 'Hello Future' MV Teaser Released
2021 kpop
,
2021 kpop girl idols
,
2021 kpop news
,
2021 kpop news updates
,
2021 kpop updates
,
2021 news kpop
,
2021 updates on kpop
,
AESPA
,
aespa kpop
,
aespa news
,
aespa next level
,
KPOP
,
Kpop 2021
,
kpop aespa
,
Kpop artist
,
Kpop artists
,
Kpop idols
,
Kpop news
,
Kpop trend
,
Kpop trending
,
KPop trending news
,
Kpop trending now
,
KPOP2021
,
Kpopall
,
KPOPIDA
,
KPOPNEWS
,
Kpopnews 2021
,
Kpopnews2021
,
next level AESPA
,
trending 2021
,
trending kpop
,
Trending Kpop news
,
trending kpop update
,
trending update kpop