Group AB6IX has confirmed the release of a new song by Universe Music.
On May 15th, NCsoft Co., Ltd., and Klap Co., Ltd. said, "We will release the new song 'GEMINI' of AB6IX, presented in Universe Music, on May 24th at 6 pm." 
The company released the scheduler and cover images through the Universe app and its official social media.
According to the released scheduler, they will release the concept photos of AB6IX members (Woong Jeon, Donghyun Kim, Woojin Park, Daehwi Lee) on May 16th. Also, they will release the trailer video of 'CONCEPT TRAILER: SAVIOR' on May 17th. Then, they will release the teaser video 'Journey Version" on May 19th and 'Starlight Version' on May 21st. Fans are continuing to set their expectations for the new song.
Particularly, fans are paying attention to the 'GEMINI' cover image. In the released image, the members of AB6IX catch the attention of the fans with their unique concept costumes. It is under the dreamy and mysterious red lighting. AB6IX exhibited the charm of 4 people featuring black outfits ranging from techwear to rider jackets.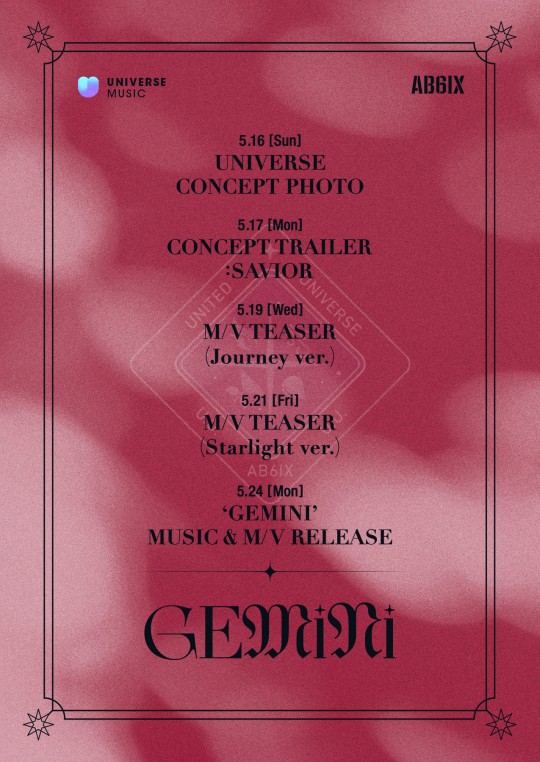 AB6IX debuted in 2019. Global fans loved them a lot as an 'all-round idol,' who can write, compose, and produce songs. Recently, they released their fourth Extended Play (EP) album, 'MO' COMPLETE: HAVE A DREAM,' proving their further growth as musicians. Universe Music has provided various concepts and collaborations, making it fun to listen and watch the songs. So, expectations are high for AB6IX's extraordinary performance.
Universe Music presented IZ*ONE's 'D-D-DANCE' released in January, Sumi Jo and Rain's 'Guardians,' released in February, Jihoon Park's 'Call U Up (Feat. LeeHi) (Prod.Primary), released in March, (G)I-DLE's 'Last Dance (Prod. GroovyRoom),' released in April, and Daniel Kang's 'Outerspace (Feat. Loco),' released this May. Then, Universe Music will also present AB6IX's new song release, meeting music fans around the world.
'GEMINI' will be available on various music sites at 6 pm on May 24th. In addition, they will be releasing the music video exclusively through the Universe app.
Read More About: BIGBANG Taeyang, Hinting A Comeback?
2021 kpop news
,
2021 kpop updates
,
ab6ix
,
AB6IX Comeback
,
ab6ix kpop
,
ab6ix new album
,
AB6IX news
,
AB6IX_Gemini
,
AB6IX_MO COMPLETE: HAVE A DREAM!
,
KPOP
,
Kpop 2021
,
Kpop artist
,
Kpop artists
,
Kpop idols
,
Kpop news
,
Kpop trend
,
Kpop trending
,
KPop trending news
,
Kpop trending now
,
KPOP2021
,
KPOPIDA
,
KPOPNEWS
,
Trending
,
trending 2021
,
trending kpop
,
Trending Kpop news
,
trending kpop update
,
trending news
,
trending update kpop