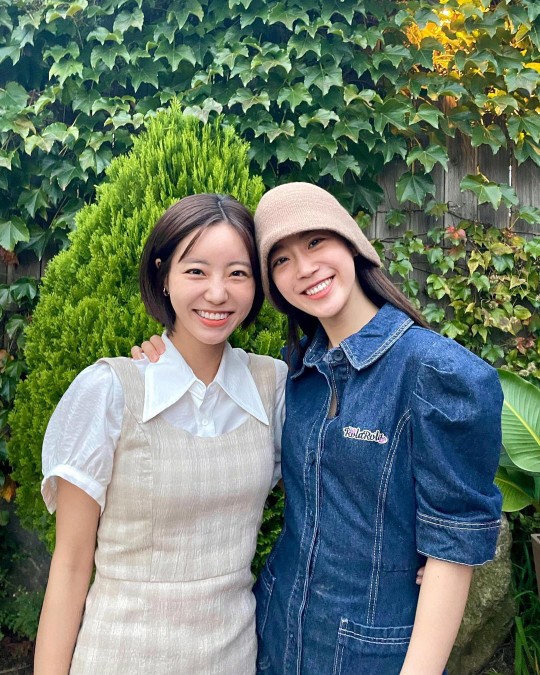 Youngji Heo, a former member of the Kpop group KARA, boasted twin visuals with her older sister Songyeon Heo.
Youngji Heo posted a photo on her Instagram on September 22nd, saying, "I spent a good Chuseok (Autumn Eve) with my family."
There is a picture of Youngji with her sister, Songyeon, standing side by side in the photo. The two are wearing a dress, showing an atmosphere full of innocence. The identical looks of the sisters who put their heads together while smiling brightly are lovely.
In addition, Youngji and Songyeon boasted a refined beauty and showed a lovely charm with a natural appearance, which attracted the public's attention.
Youngji Heo added, "No more, no less, just Chuseok."
Earlier, Youngji Heo made her debut as a member of the Kpop group KARA in 2014. Currently, she is active as a host in the acting and entertainment fields. Also, she has been active as an announcer of OBS Gyeongin TV.
Read More About: TV Chosun 'Tomorrow's National Singer' Official Poster Released!
2021 kpop news
,
2021 kpop news updates
,
2021 kpop updates
,
2021 news kpop
,
girl group KARA
,
Heo Young-Ji
,
KARA comeback
,
KARA kpop
,
KARA member
,
KARA members
,
KARA Youngji Heo
,
KPOP
,
Kpop 2021
,
Kpop artist
,
Kpop artists
,
Kpop groupKARA
,
Kpop idol Youngji Heo
,
Kpop idols
,
kpop KARA
,
kpop kara news
,
Kpop latest news
,
Kpop news
,
Kpop recent news
,
Kpop trend
,
Kpop trending
,
KPop trending news
,
Kpop trending now
,
kpop trending update
,
kpop youngji heo
,
KPOP2021
,
Kpopall
,
KPOPIDA
,
KPOPNEWS
,
Kpopnews 2021
,
Kpopnews2021
,
latest kpop news
,
recent kpop news
,
Trending
,
trending 2021
,
trending kpop
,
Trending Kpop news
,
trending kpop update
,
trending news
,
trending update kpop
,
Youngji Heo
,
Youngji Heo news
,
Youngji_Heo