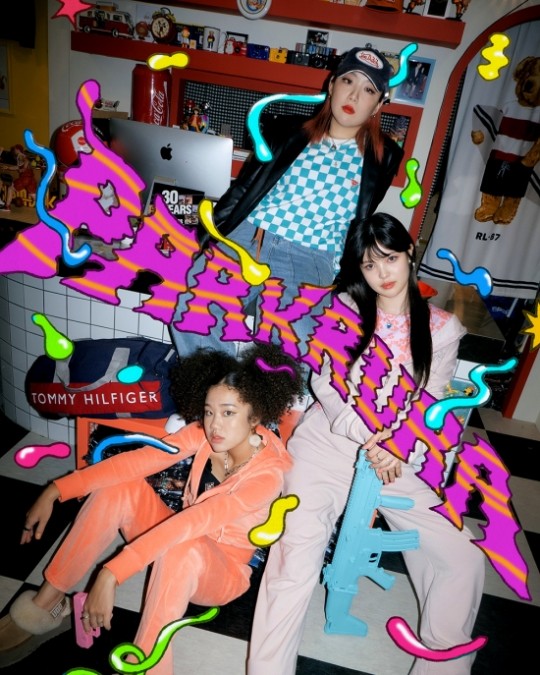 Kpop artist Moonchi Park, a producer, composer, and singer representing Generation Z, will release the EP 'ParkRuRa' with guest members Ruru and Lara at noon today, September 28.
'ParkRuRa' is a special album with a vocalist who consistently worked with Moonchi Park as a strong supporter and crew. It contains a total of four songs, including the title song 'Move!'
The title song 'Move! ' is a song in the genre of R&B Soul, composed of easy to listen to melodies and playful beats. In the music video, Moonchi Park, Ruru, and Lara appear directly. The events taking place in the clothing store are humorous and eye-catching.
Mainly, this album will give you a glimpse of the music world of Moonchi Park. She has become more mature and trendy by expressing various genres such as R&B Soul and New Jack Swing. Moonchi Park's broad musical sense, Ruru, and Lara's outstanding singing and personality, regardless of genre, will surely be different from the pleasant and bright energy shown in the existing song 'Cool 42.'
For the release of this album, Kpop artist Moonchi Park expressed her gratitude  "I hope you enjoy listening to the voices of my wonderful friends and tracks containing my concerns."
In MBC's Hang Out With Yoo's seasonal group 'SSAK3,' Moonchi boasts her 90s-style composition and arrangement skills and earned the nickname 'Newtro Genius.'
She is a producer attracting attention by composing songs for various singers such as EXO Suho, Baekhyun, and Daniel Kang. Recently, she collaborated with Jinah Kwon and DAY6 Young K to prove her broader spectrum once again. So, fans are looking forward to what new musicality will Moonchi Park will show in the future.
Read More About: V.O.S Kyungrok Kim Will Release A Remake Of The Nuts' 'My Person'
best Kpop girl group
,
best kpop news site
,
best kpopstar
,
breaking news kpop
,
CHANYEOL
,
D.O
,
daily kpop news
,
Day6
,
DAY6 kpop news
,
DAY6 members
,
DAY6 unit
,
DAY6 updates
,
DOWOON
,
Even Of Day
,
EXO
,
EXO Albums
,
EXO members
,
Exo news
,
EXO songs
,
Fandom
,
Jin-ah Kwon
,
Kai
,
KNOCK
,
Korean celeb news
,
Korean singer
,
Korean singer songwriter
,
KPOP
,
Kpop album
,
kpop artist park moonchi
,
Kpop beauty routine
,
Kpop boy group
,
kpop celebrity news
,
Kpop chart and news
,
Kpop colllaboration
,
KPOP comeback
,
Kpop current news
,
kpop daily news
,
kpop day6
,
kpop exo
,
Kpop fashion
,
Kpop girls group
,
Kpop group EXO
,
Kpop idols
,
Kpop issues
,
kpop Jin-ah Kwon
,
Kpop latest news
,
Kpop music chart
,
Kpop news
,
Kpop news articles
,
Kpop news sites
,
kpop news update
,
Kpop recent news
,
kpop singer park moonchi
,
Kpop skin care routine
,
Kpop skincare routine
,
KPop trending news
,
KPOPNEWS
,
Kyungsoo Do
,
moonchi park
,
park moonchi
,
Right Through Me
,
singer Jin-ah Kwon
,
songwriter Jin-ah Kwon
,
South Korean singer songwriter
,
the best kpop girl group
,
the best kpop girl group of 2021
,
the best kpop group of 2021
,
the top kpop group
,
top kpop boy group
,
top kpop girl group
,
WONPIL
,
YOUNG K