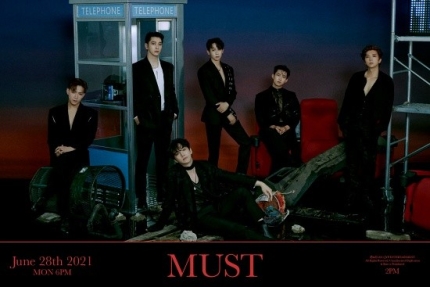 2PM has started the countdown for their comeback.

On June 23rd, JYP Entertainment revealed the group teaser for 2PM's 7th regular album 'MUST' on their official social media. The two versions exuded conflicting charms.

First, the dark version was intense. 2PM members are wearing matching all-black suits. They emitted a strong force in the dark background. It exudes the aura of an adult man.

Next, the light version exudes a natural yet sexy atmosphere. The members gave a gentle smile and irresistible eye contact.

Fans' reaction is already hot. No wonder, this 2PM's full-fledged activities now are the first in about five years. In September 2016, the 6th regular album 'Gentleman's Game' was the last.

2PM Wooyoung Jang composed and wrote the lyrics for 'Make It.' It is a song characterized by an addictive melody. Also, it contains 2PM's unique yet relaxed sexy charisma.

Wooyoung Jang explained, "Make It' expresses the answer with an addictive melody to 'the things that I have to face with a strong attraction that I can't refuse, the things I want to do and have to do.'"
2PM will release the new album on major music sites at 6 pm on June 28th. Also, they will conduct the comeback show 'MUST' at 7 pm on the same day.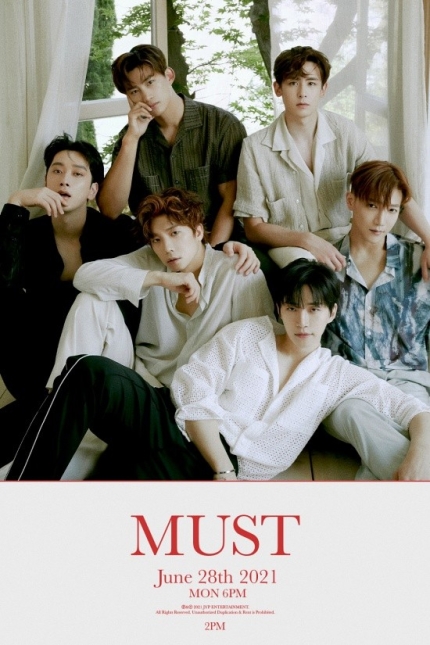 Read More About: Inyoung Seo, 'Marriage Luck Enters The Age Of 42-44'
2021 kpop
,
2021 kpop news
,
2021 kpop news updates
,
2021 kpop updates
,
2021 news kpop
,
2021 updates on kpop
,
2PM
,
2PM Comeback
,
2PM KPOP
,
2pm news
,
2pm_must
,
2pm_Ok Taecyeon
,
KPOP
,
Kpop 2021
,
kpop 2pm
,
KPOP 2PM NEWS
,
Kpop artist
,
Kpop artists
,
Kpop idols
,
Kpop news
,
Kpop trend
,
Kpop trending
,
KPop trending news
,
Kpop trending now
,
KPOP2021
,
Kpopall
,
KPOPIDA
,
KPOPNEWS
,
Kpopnews 2021
,
Kpopnews2021
,
trending 2021
,
trending kpop
,
Trending Kpop news
,
trending kpop update
,
trending update kpop