2PM Nichkhun raised his comeback fever with his original male-god charm that inspires admiration.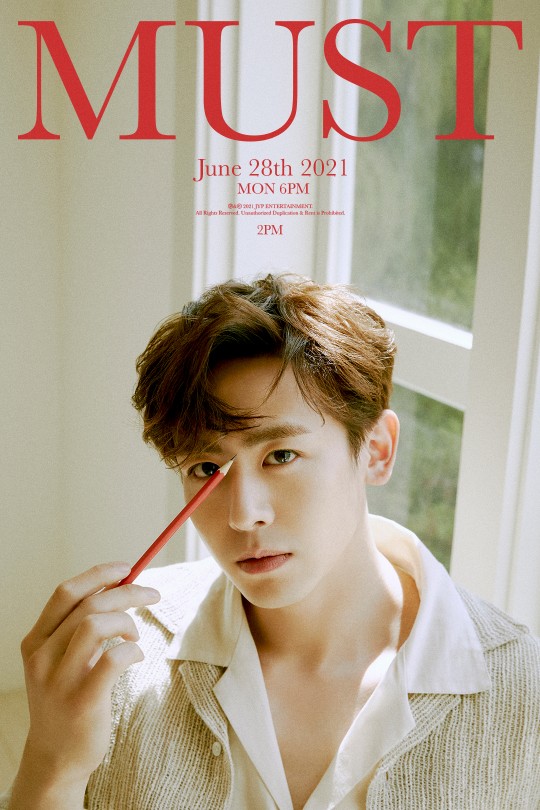 2PM will make their comeback as a full group after about 5 years. They will be releasing their 7th full-length album 'MUST' and the title song 'Make It' on June 28th. Ahead of this, they sequentially released the trailer video '2PM 'MUST' Trailer: The Hottest Origin,' trailer posters, and various contents.
JYP Entertainment posted a teaser image of Nichkhun on their official social media channel on June 16th. He is the first runner in the personal teaser content. Also, they additionally released individual visual films and teaser photos at noon. In the photo, Nichkhun heated up the fans' hearts by presenting an unexpected charm. It is 180 degrees different from his existing image.
With deep eyes, Nichkhun exuded the look of a man. He intuitively showed the unique charm of 2PM that many K-pop fans want. In the visual film and individual teaser photos released at noon, he raised fans' excitement with his boyfriend-like look. It is as if he was spending a leisurely and sunny weekend.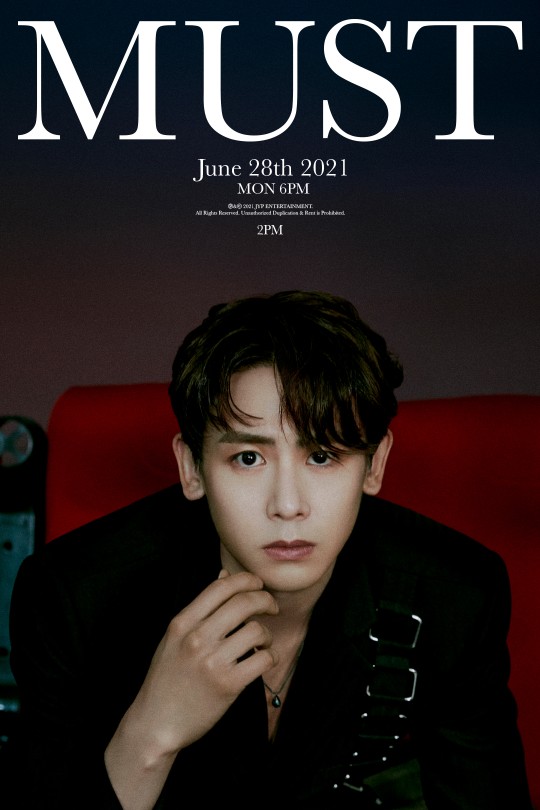 In fact, Wooyoung Jang wrote and composed 2PM's new song, 'Make It,' implying their unique energy. The new song started with two questions, "What if love passes by again? What should I say?" and "What if our comeback is now? What should I do?" He resolved these questions by adding, "Facing with an irresistible powerful attraction. Things I want to do and have to do," with a fascinating melody.
Also, the new album 'MUST' aims to be an album that you must listen to as the title suggests. Wooyoung Jang, who was in charge of the title song, and JUN. K, who created 'My House,' are the main characters of their reverse running craze. Then, JUN. K and Taecyeon Ok showed their passion by putting their names on the credits for 7 out of 10 songs.
In fact, 2PM is proving to be a hot topic by appearing in various entertainment programs. Also, they attract fans' attention with the news of the release of their new album. On June 11th, they appeared on SBS 'Civilization Express – Special Concert.'
They unveiled the 2021 version of 'My House' for the first time. So, it attracts enthusiastic responses from global K-pop fans. In addition, they appeared on several broadcasts, including MBC's 'I Live Alone' and EBS's 'Giant Peng TV,' catching viewers' attention.
So, 2PM will release their new album 'MUST' and the title song 'Make It' at 6 pm on June 28th. At the same time, they will announce the return of the 'K-Pop One & Only Male Group.'
Read More About: EXO & TWICE Becomes The Charity Angel of June
2021 kpop
,
2021 kpop news
,
2021 kpop news updates
,
2021 kpop updates
,
2021 news kpop
,
2021 updates on kpop
,
2PM
,
2PM Comeback
,
2PM Junho
,
2pm news
,
2pm nichkhun
,
2pm_must
,
2pm_Ok Taecyeon
,
JUNHO 2pm
,
KPOP
,
Kpop 2021
,
kpop 2pm
,
Kpop artist
,
Kpop artists
,
Kpop idols
,
Kpop news
,
Kpop trend
,
Kpop trending
,
KPop trending news
,
Kpop trending now
,
kpop trending update
,
KPOP2021
,
Kpopall
,
KPOPIDA
,
KPOPNEWS
,
Kpopnews 2021
,
Kpopnews2021
,
Trending
,
trending 2021
,
trending kpop
,
Trending Kpop news
,
trending kpop update
,
trending news
,
trending update kpop