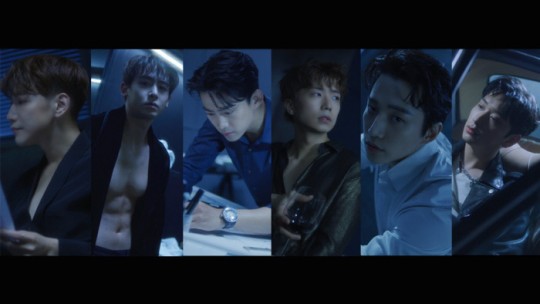 The trailer for the new album, which contains 2PM's unique charm, heated up online, surpassing 1 million views on YouTube.
The video '2PM <MUST> Trailer: The Hottest Origin' released by JYP Entertainment on various official social media channels on June 7th, received 1 million YouTube views around 9 pm as of June 8th.
The trailer raised expectations further by showing the perfect physical appearances of the six members. In the short video, 2PM showed their sexy six-member, six-color look. They stimulated the imagination of the viewers by spraying perfume or loosening their ties. The members completely stole the hearts of fans with their sexy figure, which they perfectly expressed through this work.
In addition, K-pop fans and the public's enthusiastic response adds to the comeback fever of 2PM, which led to the reverse trend with their fifth full-length title song, 'My House,' released in 2015.
Fans said, "I became a fan of 'My House' fan cam, but they came back with an upgraded version."
"True adult sexiness."
"Classic. It shows why classic is classic and cliché is cliché."
"A possible concept because it's 2PM."
Member Wooyoung posted a live broadcast on Instagram on the morning of June 7th, saying, "The trailer is just the beginning. We haven't been able to show half of it yet. The members carefully prepared every minute and second every day. We worked hard to polish it for all of you who have been waiting for a long time. So, please look forward to it. This summer, 2PM will be in charge." He is hinting at all-time activities that 2PM will do soon.
Expectations are high for the new album 'MUST,' which 2PM completed with great effort to meet the long-awaited 'Hottest' (fandom).
Meanwhile, 2PM will release their new album at 6 pm on June 28th. The album pre-orders are in progress, that starts on June 7th.
Read More About: LIGHTSUM 'Vanilla' 2nd Music Video Teaser Released
2PM
,
2PM Comeback
,
2PM Junho
,
2pm news
,
2pm_Ok Taecyeon
,
JUNHO 2pm
,
KPOP
,
Kpop 2021
,
kpop 2pm
,
Kpop artist
,
Kpop artists
,
Kpop idols
,
Kpop news
,
Kpop trend
,
Kpop trending
,
KPop trending news
,
Kpop trending now
,
kpop trending update
,
KPOP2021
,
Kpopall
,
KPOPIDA
,
KPOPNEWS
,
Trending
,
trending 2021
,
trending kpop
,
Trending Kpop news
,
trending kpop update
,
trending news
,
trending update kpop