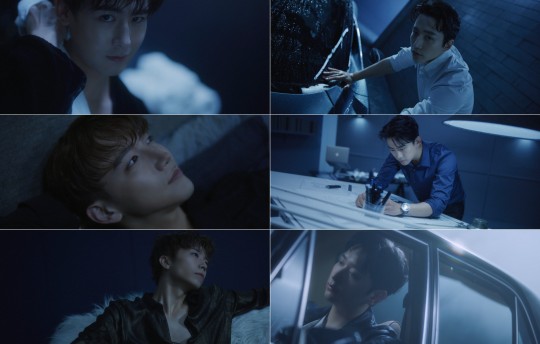 2PM released a personal trailer video for their new album 'MUST,' which heated up more their comeback fever.
JYP Entertainment released individual trailer videos on its official social media channel at intervals of 30 minutes from 2 pm on June 12th. Starting with Junho and Nichkhun, they released a total of six videos sequentially. It includes the trailer videos of Jun K, Taecyeon, Wooyoung, and Chansung. Their personal videos are heating up the hottest time of the day.
This personal trailer video is an extension of '2PM <MUST> Trailer: The Hottest Origin,' released on June 7th. It received explosive responses from fans. The members feature black, blue, and gray tones. Also, it boasts a heavy and sophisticated mood as a base.
Nichkhun attracts attention with his immersive eyes and superior physicality. Junho takes off his jacket and washes the car. JUN, who immersed himself in contemplation while looking at the night view, illuminates the city night. Also, Jun K and Taecyeon, who rolled up their blue shirt, immersed themselves in work. While Wooyoung immersed himself in a drowsy mood with red wine. And, Chansung who is wearing a leather jacket, gives a rough look. Each of the six members captured the hearts of global K-pop fans.
2PM will show the team's unique sexiness and implement the cliche in everyone's imagination. They are determined to prove the unrivaled presence of the 'K-pop Original Men's Group' in all aspects. This is their first full comeback in about five years since their sixth full album 'GENTLEMEN'S GAME' released in September 2016.
Previously, 2PM appeared on SBS 'Civilization Express – Special Concert' at 11:30 pm on June 11th. So, they showed a full stage performance. The members introduced the 2021 version of 'My House,' which enjoyed reverse popularity last year. It is attracting attention as the song features a more intense mood and sexiness.
The new album 'MUST,' which will satisfy the long-awaited and expectations of Hottest (fandom name), will be officially released at 6 PM on June 28th. In fact, album reservations and pre-orders have been in progress since June 7th.
Read More About: THE BOYZ, Ranked 7th On Billboard's K-Pop 100
2021 kpop
,
2021 kpop news
,
2021 kpop news updates
,
2021 kpop updates
,
2021 news kpop
,
2021 updates on kpop
,
2PM
,
2PM Comeback
,
2PM Junho
,
2pm news
,
2pm_Ok Taecyeon
,
JUNHO 2pm
,
KPOP
,
Kpop 2021
,
kpop 2pm
,
Kpop artist
,
Kpop artists
,
Kpop idols
,
Kpop news
,
Kpop trend
,
Kpop trending
,
KPop trending news
,
Kpop trending now
,
kpop trending update
,
KPOP2021
,
Kpopall
,
KPOPIDA
,
KPOPNEWS
,
Kpopnews 2021
,
Kpopnews2021
,
Trending
,
trending 2021
,
trending kpop
,
Trending Kpop news
,
trending kpop update
,
trending news
,
trending update kpop