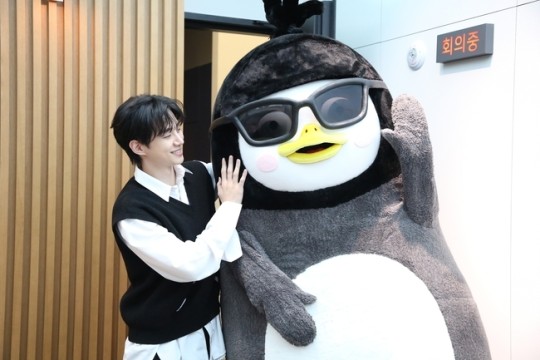 2PM Junho met with 'Pengsoo' and showed off his professional traits.
Junho met with popular character Pengsoo on the EBS program 'Giant Peng TV,' which aired at 7:35 pm on April 30th. They showed fantastic chemistry together. Junho showed off his witty speech and exuded pleasant energy. Also, they both showed their sense of entertainment.
As soon as Pengsoo met 2PM Junho, he said, "Did you say you're coming to the house in 10 minutes?" Pengsoo emphasized that they are a fateful encounter. He refers to Junho's movie 'Watchers' as he played the role of a detective named 'Squirrel,' and Pengsoo as emperor penguin 'Pengpeng,' nicknamed by Japanese fans.
Later on, 2PM Junho felt embarrassed to talk about the song's lyrics in front of the children while watching the debut song '10 out of 10′ performed in EBS 'Children's Day Special' filmed at the Blue House in May 2009. "I recalled those memories when I was a hot topic online," said Junho. Particularly, when asked to show 2PM's 'My Home' performance, which became a hit song, Junho's words "I haven't played once in two years" made viewers flutter with just a short glimpse of the dance. Then, he filled the practice room of JYP Entertainment with warmth by teaching the choreography points calmly and kindly to Pengsoo.
When Pengsoo asked when they will complete their comeback, Junho said, "We are still preparing. This is the album that we and our fans are all waiting for."
Junho whispered to Pengsoo about their comeback day.
2PM member Junho is delivering good influence by practicing consistent good deeds and sharing. Recently, JYP and World Vision agreed to support children's expenses for medical treatment. In addition, during his alternative military service, they continued to support the less fortunate and shared their warm heart.
2PM, which announced a comeback in the music industry this summer, is striving to prepare for a new album. At the same time, they are showing off their own content, such as performing arts, dramas, movies, and pictorials. 2PM has been loved as a representative male group with a unique presence in K-pop history. Music fans are now paying attention to the group's comeback.
Read More About: 'All Year Live' Revealed Korean Stars Luxury Fashion Items (Hyori Lee, Soyeon Kim, Jihyun Jun, etc.)
2021 kpop news
,
2021 kpop updates
,
2PM
,
2PM Junho
,
2pm news
,
Giant Peng TV
,
JUNHO
,
JUNHO 2pm
,
KPOP
,
Kpop 2021
,
kpop 2pm
,
Kpop artist
,
Kpop news
,
Kpop trend
,
Kpop trending
,
KPop trending news
,
Kpop trending now
,
KPOP2021
,
KPOPIDA
,
KPOPNEWS
,
Kpopstars
,
pengsoo
,
pengsoo and Junho
,
Trending
,
trending 2021
,
trending kpop
,
Trending Kpop news
,
trending kpop update
,
trending news
,
trending update kpop