2PM JUN. K showed off his artistic charm by exuding an urban atmosphere in the teaser for the new album 'MUST.'
Before releasing their 7th full-length album, 'MUST' and the title song 'Make It' on June 28, 2PM is heating up their comeback fever by sequentially releasing fruitful teaser contents. It includes trailer films, tracklists, and personal teaser images. On June 18th, they presented JUN. K's personal teaser image. Also, a visual film and another teaser image were additionally released at noon on the same day.
JUN. K in the teaser photo gathered enthusiastic responses from fans worldwide with his wide shoulders and deep eyes. In the dark version of the image, a chic mood with just a black jacket was created, showing the charm of a cold city man. Also, in the visual film and light version image released at noon, he showed off his sleek side with a smile, attracting fans.
In fact, JUN. K is the writer and composer of 'My House,' the key song of 2PM's K-pop reverse craze. He is constantly showing off his trendy sense and wide musicality. This time, he will continue his activities by participating in the work of three songs from the new album 'MUST.' He participated in the songs 'Okay Or Not,' 'On My Way,' and 'Hold On.'
Fans expect 2PM to show the essence of 'K-sexy' once again with the new song 'Make It,' which they will release after about 5 years. Member Wooyoung Jang wrote and compose the song. So, it is raising expectations even more. It starts from the questions, "What if love passes by again? What should I say?" and "What if our comeback is now? What should I do?" He resolved these questions by adding, "Facing with an irresistible powerful attraction. Things I want to do and have to do," with an addictive melody.
Therefore, 2PM will release their 7th full-length album 'MUST' and the title song 'Make It' at 6 pm on June 28th. Also, they will perform various activities to reward 'HOTTEST' (fandom) who waited for them to finish their military service.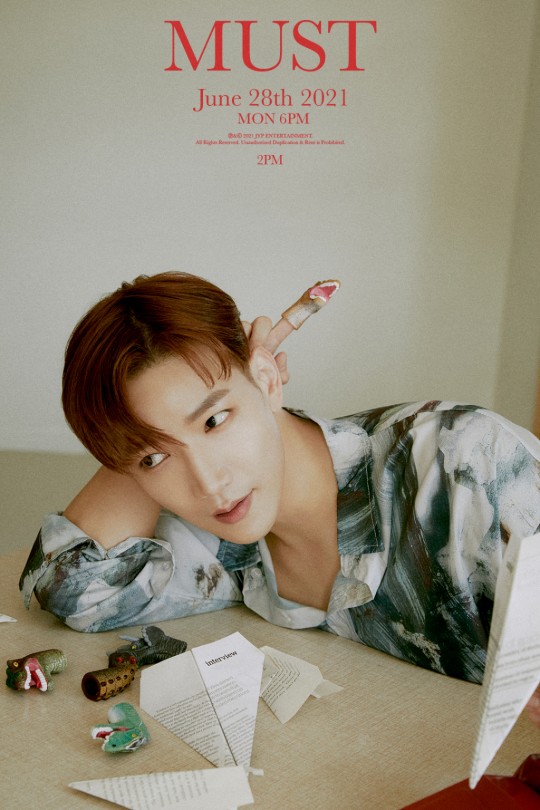 Read More About: LOONA Heejin x Olivia Hye, Secret Concept Photo Released
2021 kpop
,
2021 kpop news
,
2021 kpop news updates
,
2021 kpop updates
,
2021 news kpop
,
2021 updates on kpop
,
2PM
,
2PM Comeback
,
2PM KPOP
,
2pm news
,
2pm_must
,
KPOP
,
Kpop 2021
,
kpop 2pm
,
KPOP 2PM NEWS
,
Kpop artist
,
Kpop artists
,
Kpop idols
,
Kpop news
,
Kpop trend
,
Kpop trending
,
KPop trending news
,
Kpop trending now
,
KPOP2021
,
Kpopall
,
KPOPIDA
,
KPOPNEWS
,
Kpopnews 2021
,
Kpopnews2021
,
trending 2021
,
trending kpop
,
Trending Kpop news
,
trending kpop update
,
trending update kpop