2PM member Junho expressed his concerns about muscle loss.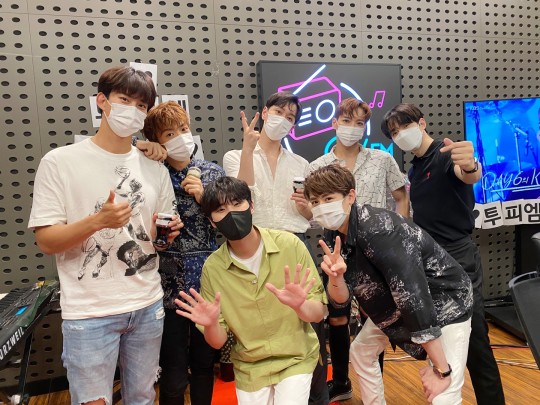 2PM members JUN. K, Nichkhun, Taecyeon, Wooyoung, Junho, and Chansung appeared on 'DAY6's Kiss the Radio' on July 8th. They showed off their chemistry with their junior, DAY6 member Young K.
On this day, Taecyeon praised Young K, saying, "It's very emotional to appear on Kiss the Radio after 14 years. Young K is really good at hosting."
"Whenever I look in the mirror in the morning, I worry about muscle loss," Junho said.
Asked by DJ Young K, "What do you think every time you look in the mirror?" Junho said, "Do I lose my muscles? I see if I lost weight or not. It's an eye body instead of an Inbody. I check my body with my eyes every day."
Also, to the question "What caused Junho's blood pressure to rise recently?" 2PM Junho answered, "I hit a wooden table these days, and it doesn't rise." Also, to a question about the sightings of seeing a ghost in the old office building of JYP, Junho replied, "I know the secret of ghosts in the old office building. The members keep saying that they hear ghosts, but it's not because of ghosts. It is because of overlapping frequencies in other practice rooms."
When asked what makes 2PM Nichkhun excited these days, the members teased, "Isn't it time to check his bank account balance?" Then, Nichkhun replied, "I'm excited when I cook."
Recently, 2PM released their 7th full-length album 'MUST' and is currently active with the title song 'Make It.'
'DAY6's Kiss the Radio' is a program hosted by DAY6's Young K on KBS 2FM from 10 PM to 12 PM.
Read More About: Brave Girls 'Summer By Myself (Piano Ver.)' Released Today!
2021 kpop
,
2021 kpop news
,
2021 kpop news updates
,
2021 kpop updates
,
2021 news kpop
,
2021 updates on kpop
,
2PM
,
2PM Junho
,
2PM KPOP
,
2pm news
,
2pm nichkhun
,
2pm_must
,
2pm_Ok Taecyeon
,
JUNHO 2pm
,
KPOP
,
Kpop 2021
,
kpop 2pm
,
KPOP 2PM NEWS
,
Kpop artist
,
Kpop artists
,
Kpop idols
,
Kpop news
,
Kpop trend
,
Kpop trending
,
KPop trending news
,
Kpop trending now
,
kpop trending update
,
KPOP2021
,
Kpopall
,
KPOPIDA
,
KPOPNEWS
,
Kpopnews 2021
,
Kpopnews2021
,
Trending
,
trending 2021
,
trending kpop
,
Trending Kpop news
,
trending kpop update
,
trending news
,
trending update kpop