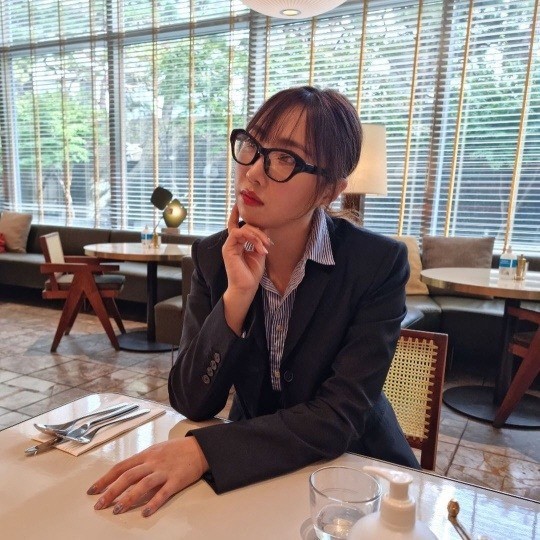 Minzy (Minji Gong), a former member of the Kpop group 2NE1, showed off a remarkably changed beauty.
On October 13, Minzy posted a photo on her Instagram with the caption, "Commuting to work=>Meeting=>Happy Meal #bosslady."
In the photo, Minzy is dressed in a suit. Her chic yet intelligent atmosphere caught the eyes of the fans.
Meanwhile, Minzy debuted as a member of the Kpop group 2NE1 in 2009. After the group disbanded in 2016, she has been active as a solo artist. 
Read More About: IU 'Strawberry Moon' MV To Feature Actor Jongwon Lee
2021 kpop news
,
2021 kpop news updates
,
2021 kpop updates
,
2021 news kpop
,
2ne1
,
2NE1 CL
,
2NE1 KPOP
,
2NE1 member CL
,
2ne1 minzy
,
2ne1 Park Bom
,
2ne1 sandara
,
2NE1_Bom Park
,
2NE1_CL
,
2NE1_Minzy
,
2ne1_Park Bom
,
2NE1_Sandara park
,
best kpop news site
,
CL OF 2NE1
,
daily kpop news
,
Korean celeb news
,
KPOP
,
Kpop 2021
,
KPOP 2NE1
,
Kpop artist
,
Kpop artists
,
kpop celebrity news
,
kpop daily news
,
Kpop idols
,
Kpop latest news
,
Kpop news
,
Kpop recent news
,
Kpop trend
,
Kpop trending
,
KPop trending news
,
Kpop trending now
,
kpop trending update
,
KPOP2021
,
Kpopall
,
KPOPIDA
,
KPOPNEWS
,
Kpopnews 2021
,
Kpopnews2021
,
latest kpop news
,
minzy 2ne1
,
recent kpop news
,
Trending
,
trending 2021
,
trending kpop
,
Trending Kpop news
,
trending kpop update
,
trending news
,
trending update kpop