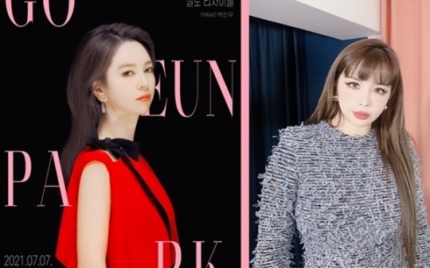 Singer Bom Park from the group 2NE1 revealed her beautiful sister.
Bom Park posted on her Instagram on June 6th, saying, "My sister cello recital, fighting!" and posted a picture of her sister.
The photo is a recital poster of Bom Park's older sister and famous cellist Gowoon Park. Gowoon Park is famous for being as beautiful as Bom Park. She attracted attention for her appearance that resembles actress Jihyo Song.
Gowoon Park graduated from the University of Performing Arts Of Vienna with a master's degree. In 2019, she played the cello in the ballad version of 'Spring,' released by 2NE1 member Bom Park. It attracted the attention of many music fans.
Read More About: OH MY GIRL YooA Explains To Plastic Surgery Theory
2021 kpop updates
,
2ne1
,
2ne1 Park Bom
,
2NE1_Bom Park
,
2ne1_Park Bom
,
Bom Park
,
KPOP
,
Kpop 2021
,
Kpop artist
,
Kpop artists
,
Kpop idols
,
Kpop news
,
Kpop trend
,
Kpop trending
,
KPop trending news
,
Kpop trending now
,
kpop trending update
,
KPOP2021
,
Kpopall
,
KPOPIDA
,
KPOPNEWS
,
Park Bom
,
Park Bom comeback
,
Park Bom Instagram
,
Trending
,
trending 2021
,
trending kpop
,
Trending Kpop news
,
trending kpop update
,
trending news
,
trending update kpop