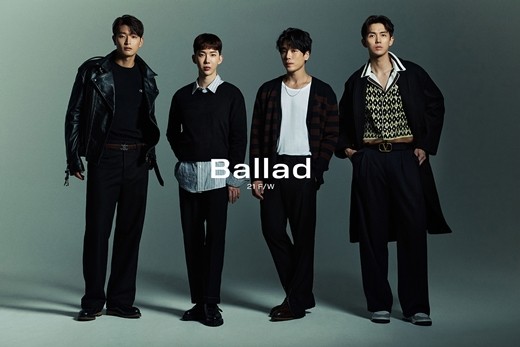 Kpop group 2AM showed off the potential of a 'luxury ballad group.'
2AM appeared on the cable channel Mnet 'M Countdown' on November 4, KBS 2TV 'Music Bank' on November 5, and MBC 'Show! Music Core' on November 6. They performed the double title songs 'Should've Known' and 'No Good In Goodbye'; from their album, 'Ballad 21 F/W.'
2AM decorated the stage as compiled group for the first time in seven years. They showed off a more mature aspect with modern and sophisticated suit styling. They filled the stage with their sweet voices and sensibilities that fit well with the current season.
Notably, 2AM admired each other for providing perfect harmony with strong teamwork, such as looking into each other's eyes and harmonizing. Their more delicate expression and natural facial expression increased the immersion of viewers.
The first title song, 'Should've Known,' is a self-composed song by Sihyuk Bang. It contains the longing for someone who did not know how precious it was to be close. He boasted the best synergy by expressing the pain of separation with a sweet melody of the old sensibility, creating another ballad hit song following 'Can't Let You Go Even If I Die' and 'You Wouldn't Answer Your Phone.'
The second title song, 'No Good In Goodbye,' was written and composed by Jinyoung Park, who formed 2AM. It features lyrics that unravel the complex mind of the moment when a loved one is suddenly notified of a breakup. So, it doubled the sensibility of 2AM through a dramatic song composition with a clear storyline.
The reason why 2AM's new album 'Ballad 21 F/W' is special is that they stood in front of fans as a complete group for the first time in seven years. 2AM made a comeback with a ballad genre that they can do best. It topped the music chart right after its release. Also, all the songs on the album ranked on music charts.
The title song 'Should've Known' still remains at the top of the Bugs real-time music chart, quenching listeners' musical thirst, leading the ballad craze in the second half of the year.
Also, fans are paying attention to the activities that the Kpop group 2AM will accomplish separately and together.
Read More About: Kpop Singer Boramiyu To Release Her New Single 'Once In A While'
best Kpop girl group
,
best kpop news site
,
best kpopstar
,
breaking news kpop
,
daily kpop news
,
Fandom
,
Hip-hop Idol JIN
,
Jin
,
JIN news
,
Korean celeb news
,
Korean singer
,
Korean singer songwriter
,
KPOP
,
Kpop album
,
Kpop beauty routine
,
Kpop boy group
,
kpop celebrity news
,
Kpop chart and news
,
Kpop colllaboration
,
KPOP comeback
,
Kpop current news
,
kpop daily news
,
Kpop fashion
,
Kpop girls group
,
kpop idol JIN
,
Kpop idols
,
Kpop issues
,
Kpop latest news
,
Kpop music chart
,
Kpop news
,
Kpop news articles
,
Kpop news sites
,
kpop news update
,
Kpop recent news
,
Kpop skin care routine
,
Kpop skincare routine
,
KPop trending news
,
KPOPNEWS
,
Mnet
,
Mnet program
,
MNET SHOW
,
Mnet TMI News
,
Singer JIN
,
South Korean singer songwriter
,
the best kpop girl group
,
the best kpop girl group of 2021
,
the best kpop group of 2021
,
the top kpop group
,
TMI NEWS
,
top kpop boy group
,
top kpop girl group