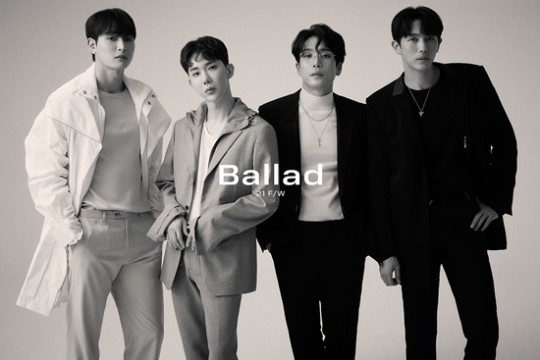 The 'luxury ballad group' 2AM is about to make a comeback as a full group on November 1. They released a new concept photo for their new album.
2AM (Jokwon, Changmin, Seulong, Jinwoon) raised expectations for their comeback by showing the concept photo of the new mini-album 'Ballad 21 F/W' through their official social media at midnight on October 20.
In the published photo, 2AM stared at the front and showed off a more mature side. Their sophisticated charm stands out in a modern atmosphere that combines awesome and chic looks. In addition, the four members showed off their trendy charms by sensibly digesting natural, casual looks. A relaxed pose reminiscent of a fashion pictorial, intense look, and a classic mood catch the eyes of the fans.
In this way, 2AM released group and individual concept photos one after another. This is to get a glimpse of the concept and atmosphere of the new album. So, it is raising the curiosity of fans for the new album 'Ballad 21 F/W.'
2AM will be releasing a new album after seven years. They debuted in the music industry with the release of the single album 'This Song' in 2014. Since then, they have established themselves as a 'luxury ballad group' by successively hitting and releasing ballad songs with a unique sensibility. It includes 'Can't Let You Go Even If I Die,' 'You Wouldn't Answer My Call,' I Wonder If You Hurt Like Me,' and 'One Spring Day.'
'Ballad 21 F/W' is an album to repay the love of fans who have waited for a long time for 2AM's comeback. At the same time, it is also an album for listeners who have a musical thirst for 2AM's ballad.
2AM announced that they would color the music industry with their voices and sensibilities in the second half of the year. So, it is attracting the keen attention of fans to the harmony of the four members through this album.
Meanwhile, Kpop group 2AM will release 'Ballad 21 F/W' through various music sites at 6 pm on November 1.
Read More About: PIXY Unveils 'Moonlight' Music Video Teaser!
best Kpop girl group
,
best kpop news site
,
best kpopstar
,
breaking news kpop
,
daily kpop news
,
Doyoung
,
Fandom
,
Junghwan
,
Korean celeb news
,
Korean singer
,
Korean singer songwriter
,
KPOP
,
Kpop album
,
Kpop beauty routine
,
Kpop boy group
,
kpop celebrity news
,
Kpop chart and news
,
Kpop colllaboration
,
KPOP comeback
,
Kpop current news
,
kpop daily news
,
Kpop fashion
,
Kpop girls group
,
Kpop idols
,
Kpop issues
,
Kpop latest news
,
Kpop music chart
,
Kpop news
,
Kpop news articles
,
Kpop news sites
,
kpop news update
,
Kpop recent news
,
Kpop skin care routine
,
Kpop skincare routine
,
KPop treasure
,
KPop trending news
,
KPOPNEWS
,
rookie group treasure
,
South Korean singer songwriter
,
the best kpop girl group
,
the best kpop girl group of 2021
,
the best kpop group of 2021
,
the top kpop group
,
top kpop boy group
,
top kpop girl group
,
treasure
,
Treasure members
,
Treasure news