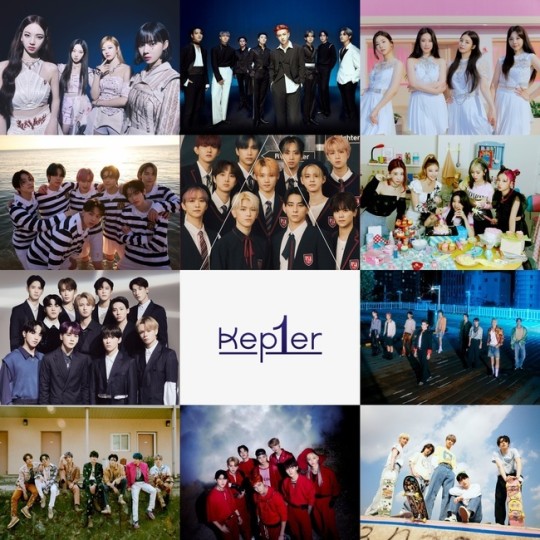 The '2021 Mnet Asian Music Awards (2021 MAMA) announced the artist lineup!
'2021 Mnet Asian Music Awards,' which will air live worldwide at 6 pm (KST) on December 11, unveiled the artist lineup. Kpop groups AESPA, ATEEZ, Brave Girls, ENHYPEN, INI, ITZY, JO1, Kep1er, NCT 127, NCT DREAM, Stray Kids, and Tomorrow X Together (TXT) will attend.
First, based on their unique metaverse worldview, AESPA is receiving global attention by recording three consecutive mega hits from their debut songs 'Black Mamba' to 'Next Level' and 'Savage, and ATEEZ loved for their solid worldview and choreography, add to the '2021 MAMA' lineup. In addition, Brave Girls, the protagonist of the 'Rollin' craze that hit Korea earlier this year, will also participate in MAMA for the first time since their debut.
ENHYPEN, who has established itself as a rising star by recording a million-seller in the first year of their debut, INI, who recently topped the Oricon chart and built a thick fandom, and ITZY, who achieved 100 million views on YouTube for their first full-length album title song 'Loco,' will also attend the '2021 MAMA.'
Kep1er, a 'global fan-made group' created through Mnet's global project 'Girls Planet 999: Girls War,' will also meet fans first through '2021 MAMA' before their official debut. Kep1er is gaining attention from global fandom, with more than 1 million social media followers and their first V LIVE broadcast topping the world's daily and weekly charts even before their debut. So, they are also gaining attention to what they will show at the '2021 MAMA' stage.
Also, Kpop group NCT will appear at the '2021 MAMA' and take the stage. Based on global fandom, NCT 127 and NCT DREAM, respectively, became triple million sellers. They will present an eye-catching performance with their charm that goes back and forth between intensity and freshness.
Kpop groups Stray Kids and TOMORROW X TOGETHER (TXT), who are growing as the next generation of Kpop representative artists, have also confirmed their appearance. So, attention focuses on the performance that TOMORROW X TOGETHER, which is gathering Z-generation fans, will show by reflecting their feelings and Stray Kids, who won JYP's first million-seller, and presented trendy melody after winning the final victory at 'Kingdom: Legendary War.'
Meanwhile, '2021 MNET Asian Music Awards' will hold a special event according to the concept 'MAKE SOME NOISE.'
With the meaning that artists and audiences communicate with various sounds in Kpop and become one, the event will take place on their official social media to gather global fans' shouts for the artists they support, adding to the heat of the scene.
Read More About: AOA Yuna Flaunts Her Sexy Leggings Fit!
After We Ride
,
AOMG artist
,
Back Door
,
Bangchan
,
Beomgyu
,
best Kpop girl group
,
best kpop news site
,
best kpopstar
,
BORDER CARNIVAL
,
border: day one
,
Border: Hakanai
,
Brave girls
,
Brave Girls members
,
breaking news kpop
,
Chaeryeong
,
Changbin
,
Chi Mat Ba Ram
,
Codename: Secret ITZY 2
,
daily kpop news
,
DRUNK-DAZED
,
ENHYPEN
,
ENHYPEN members
,
Fandom
,
Fantasy Idol
,
Felix
,
Given-Taken
,
Go Live
,
God's Menu
,
group NCT 127
,
Guess who
,
Han
,
Hello Future
,
Hot Sauce
,
Hueningkai
,
Hyukwoo Kwon
,
Hyunjin
,
I.N
,
In Life
,
It'z Different
,
ITZY
,
ITZY members
,
itzy news
,
ITZY updates
,
karma
,
kingdom
,
KINGDOM comeback
,
KINGDOM Kpop group
,
KINGDOM latest updates
,
KINGDOM Members
,
Korean celeb news
,
Korean singer
,
Korean singer songwriter
,
KPOP
,
Kpop album
,
kpop award ceremony
,
Kpop awards
,
Kpop beauty routine
,
Kpop boy group
,
Kpop Brave Girls
,
kpop celebrity news
,
Kpop chart and news
,
Kpop colllaboration
,
KPOP comeback
,
Kpop current news
,
kpop daily news
,
kpop Enhypen
,
Kpop fashion
,
Kpop girl group ITZY
,
Kpop girls group
,
Kpop group ITZY
,
kpop group NCT 127
,
Kpop group NCT Dream
,
Kpop idols
,
Kpop issues
,
kpop itzy
,
Kpop latest news
,
KPOP MAMA awards
,
kpop music awards
,
Kpop music chart
,
kpop NCT Dream. NCT Dream members
,
Kpop news
,
Kpop news articles
,
Kpop news sites
,
kpop news update
,
Kpop recent news
,
kpop singere Loco
,
Kpop skin care routine
,
Kpop skincare routine
,
kpop stray kids
,
KPop trending news
,
Kpop TXT
,
KPOPNEWS
,
Lee Know
,
Lia
,
loco
,
Loco comeback
,
Loco songs
,
mafia in the morning
,
MAMA
,
MAMA awards
,
MAMA kpop
,
Mnet
,
Mnet Asian Music Awards
,
Mnet program
,
MNET SHOW
,
Mnet TMI News
,
nct 127
,
NCT 127 members
,
nct dream
,
NCT members
,
NCT sub-unit
,
rapper Loco
,
Rollin
,
Ryujin
,
Seungmin
,
singer Loco
,
Soobin
,
South Korean singer songwriter
,
Sticker
,
Stray Kids
,
Stray Kids member
,
summer queen
,
Taehyun
,
the best kpop girl group
,
the best kpop girl group of 2021
,
the best kpop group of 2021
,
The Chaos Chapter: Fight Or Escape
,
the chaos chapter: freeze
,
the top kpop group
,
TMI NEWS
,
tomorrow x together
,
top kpop boy group
,
top kpop girl group
,
TXT
,
TXT kpop updates
,
txt members
,
We Ride
,
Yeji
,
Yeonjun
,
Yuna