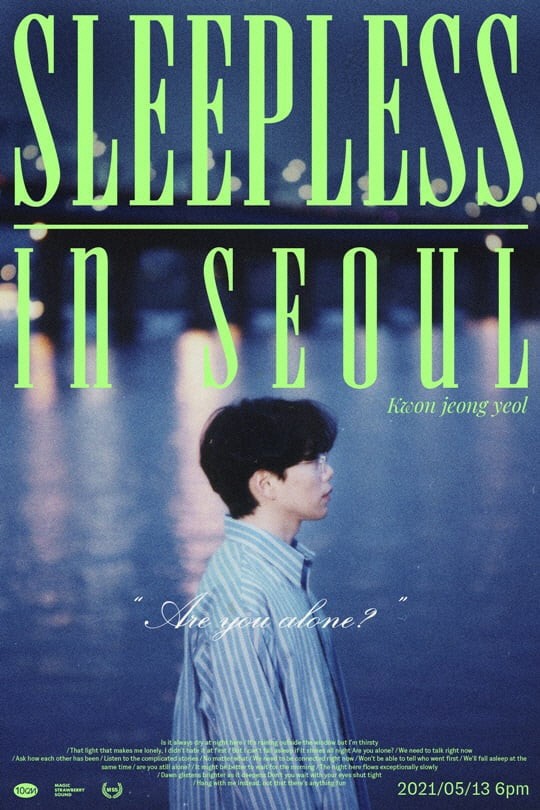 10CM (Jeongyeol Kwon) and AKMU (Akdong Musician) Suhyun Lee ask each other's regards.
10CM releases the new song 'Sleepless In Seoul (feat. Suhyun Lee)' on May 13th. In the track 'Sleepless In Seoul' of the single album '5.2,' 10CM and AKMU, Suhyun asks for each other's regards and gives comfort.
It has the lyrics, "Are you alone?/ We need to catch up right now/ Let's ask about each other/ And talk about our complicated stories/ However we do it/ We need to connect right now/ Who cares who goes first/ We'll fall asleep at the same time/ Are you still alone?/"
'Sleepless In Seoul' deeply reflects the loneliness felt in the colorful city. It is also a song that represents the hearts of everyone who wants to meet the person they love but they can't due to Covid-19.
Above all, it is the first song that 10CM has participated in production since his debut in 2004. AKMU Suhyun Lee also participated, giving a different feeling from the existing 10CM songs. Each with their own unique voices, the two musicians are singing their own songs and achieving synergy by combining their voices in the second half of the song. Their delicate expressive power maximizes the emotions presented by the song that creates an unusual texture.
Not only AKMU Suhyun Lee but also YouTube creator Sanago, who has 2.9 million subscribers, participated in the album cover production. 10CM collaborated with artists in various fields to create this song. The last lyrics 'Are you still alone?' sound rather paradoxical. You can feel the longing and gratitude for those who are with you in the present.
Read More About: EXO Baekhyun 'Bambi' MV Exceeds 30 Million Views
10cm
,
10CM new single
,
2021 kpop news
,
2021 kpop updates
,
Akdong Musician
,
akmu
,
akmu suhyun
,
AKMU_Suhyun
,
KPOP
,
Kpop 2021
,
Kpop artist
,
Kpop artists
,
Kpop idols
,
Kpop news
,
Kpop trend
,
Kpop trending
,
KPop trending news
,
Kpop trending now
,
kpop trending update
,
KPOP2021
,
Kpopall
,
KPOPIDA
,
KPOPNEWS
,
Kpopstars
,
lee suhyun
,
trending kpop
,
Trending Kpop news
,
trending kpop update
,
trending news
,
trending update kpop